RegenTHT®
Tubes Performances
The performance tests were performed according to the US FDA requirements for platelet rich plasma (PRP) medical devices.
PRP were prepared with the blood from 60 volunteers (30 women and 30 men). Measures were performed at the time of PRP preparation (T=0) and four hours later (T=4H).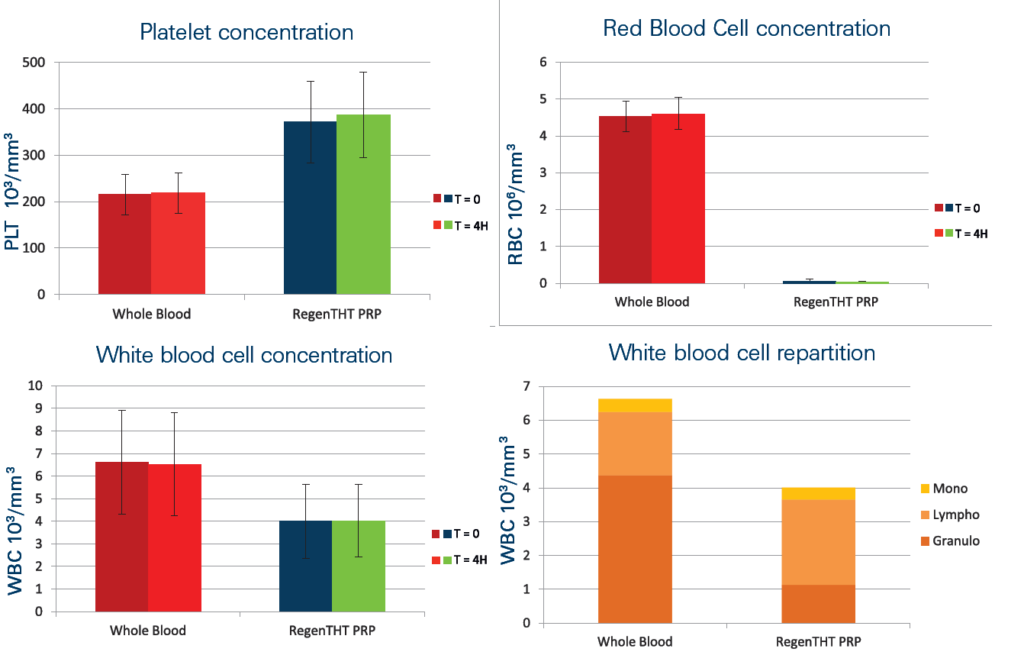 The PRP prepared with the RegenTHT device has a very low level of contaminants. Red blood cells are removed at 99.5 %. The white blood cell level is drastically reduced, with a preferential depletion (87 %) of the pro-inflammatory granulocytes (Granulo). The remaining white blood cells are mostly lymphocytes (Lympho) and monocytes (Mono).
The mean PRP volume obtained from 8ml of blood is 4.7 ml. Platelet recovery is around 95 % Platelet concentration factor is 1.7 times over the whole blood value. The flexibility of the system allows to reach a concentration factor up to 5 times (around 1'000'000 platelets/μl) by discarding a part of the plasma poor in platelets (PPP).
RegenTHT®
Platelet functionality
Functionality tests were done, according to the US FDA requirements, on PRP from 12 donors.

Platelet in RegenTHT PRP are able to:
– respond to specific ADP activation by an increased expression of P-selectin
– aggregate in presence of collagen
– resist to hypotonic stress
Those biological properties are maintained during the 4 hours of the experiment attesting the integrity and the functionality of the platelets.
Contrary to some competition PRP devices that don't collect the larger platelets, there is no platelet size selection with RegenTHT tubes.
Mean platelet volume in RegenTHT PRP (7.6 ± 0.7 μm3) is similar to the value obtained in whole blood (7.6 ± 0.6 μm3)
Good quality of the RegenTHT PRP is as well demonstrated by its ability to sustain MNC (mononuclear cell) growth (evaluation made in vitro in RegenTHT PRP kept at room temperature).
Platelets kept in these conditions have similar half life (7 days) as described in whole blood.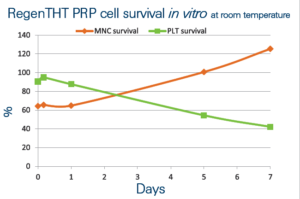 Technology platform for
standardized autologous regenerative medicine
The simple, safe and efficient point-of-care preparation of autologous platelet-rich plasma.